In this month's meet a member it's our resident social media whizz, Adel who's celebrating her first anniversary with the chorus.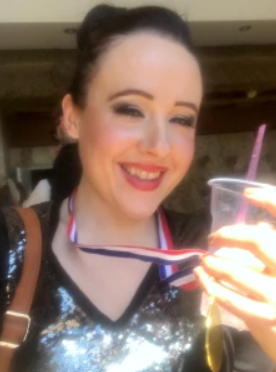 Tell us a bit about yourself?
Well hello! Firstly I love singing, obviously! My life pretty much revolves around music. I set up events for a ticketing company for work and I spend a lot of my time at gigs, or just being a geek listening to a cappella groups on YouTube. I'm a big fan of the show people love to hate: The X Factor. I also enjoy movies and dance fitness classes (good to get ideas for choreo!).
How did you find out about LCS?
I'm a bit of an old timer when it comes to Barbershop and I was a member of 2 other Sweet Adelines choruses, so I'd heard of LCS through that.
Why did you join?
After a bit of a break I was missing some 4-part harmony singing in my life and when I realised the rehearsal hall was so close to my work I thought I would pop along. I loved it and the rest, as they say, is history!
What was your first experience of a cappella or Barbershop and who did you see?
My first experience of Barbershop was when my mum handed me a leaflet for a free singing course local to my house. I dragged a friend along and quickly realised that they were actually forming a chorus which would later be known as Cheshire A Cappella. I quickly fell in love with this hobby and soon became a member. But what really gave me an insight into Barbershop was an education evening with the male group, Westminster Chorus from the US. I was blown away by their talents and later on, I ended up singing tags in the bar with some of the members. It was a fun, but surreal evening.
Tell us one thing that people would be surprised to know about you?
I taught myself to do a weird tongue curl when I was a kid. Clearly, I had too much time on my hands.
If you could only listen to one song for the rest of your life what would it be?
Probably a song by Steps as that would make me forever happy!