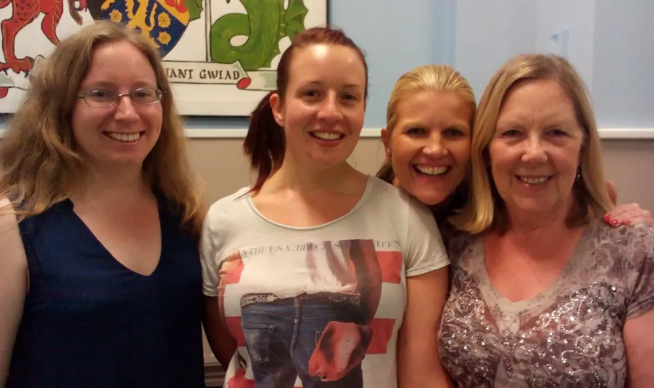 About two weeks ago, we welcomed a new member to our baritone section, Mariane (pictured above, second from left). We asked her a few questions about herself and what she is looking forward to in joining London City Singers (LCS), the only women's barbershop chorus in zones 1-2 in London, and here's what she had to say:
Please tell us a bit about yourself.
I'm Mariane (pronounced Marion) and am from Barnet, North London, which is where I still live. I've worked in the NHS for nine years in a mainly administration and project manager roles, though my degree was in ceramics. I currently work at Great Ormond Street Hospital, which is my first job working in Central London and I'm one of those weird people who enjoys commuting. In my free time I'm involved in amateur dramatics, and can often be found crocheting little gifts for people.
How did you find out about London City Singers?
I joined a Choral Society in Barnet earlier this year to improve my singing, and was talking about my jealousy of male voices (particularly barbershop) to one of the longest standing members, and he told me about Sweet Adelines as his sister had been a member. A brief bit of googling brought up the very-near-to-work-located London City Singers.
Why did you join?
It was very useful being able to attend a taster session and have a few weeks' prep before auditioning – this was one of the reasons I decided to come along as I wouldn't feel pressured into staying if I didn't like it! I joined LCS to improve my intonation, confidence and ability with harmonies, as well as to meet new people.
What's your thoughts on singing barbershop?
Singing barbershop style (particularly as a baritone) is a really nice balance with the choral group which is a large mixed choir – I'm really hoping it will improve my sight reading and learning to blend my voice with other singers. In the couple of months I've been at LCS I feel like I've already learned a huge amount about singing and music, and how much difference a bit of 'interp' can make to a seemingly basic piece of music.