There was cake, bubbly and singing, of course! Quartet Night 2015 was hotly contested this year between six participating quartets. With the high quality of the performances, it was quite challenging to identify which quartets regularly sing together from those who only formed from drawn names.
Bar-bar-bar-bar-bar-barellas were drawn first to perform but with their tenor, Sarah, delayed due to the DLR strike, Acapitches kicked off the proceedings. They started off with a perfect rendition of And So It Goes by Billy Joel followed by a choreographed, complete with props, One Direction song, That's What Makes You Beautiful. Acapitches finished off their set with a barbershop classic, Flirty Eyes. They were indeed a tough act to follow! But Sisters of Mercy were up to the challenge giving a solid performance of Duffy's song, Mercy. Next up was SW with their new lead, Hazel. Their delivery of David Guetta's Titanium (arranged by David Wright and Deke Sharon) was nothing short of energetic.
There was a brief pause afterwards to allow Charl to change costume as she was also singing bass in the next quartet. Beehive sang Beatles' With A Little Help From My Friends beautifully. The Margaritas, with former LCS member, Clare, followed with a very tuneful performance of True Colours by Cyndi Lauper. Just as Bar-bar-bar-bar-bar-barellas were about to withdraw, Sarah walks in and allowed them to perform Leonard Cohen's Hallelujah.
Unlike last year, selecting the winners for Quartet Night 2015 were down to the members. Everyone was asked to identify their 1st, 2nd and 3rd as well as best in costume, choreography and most entertaining with one condition – one cannot select their own quartet for any of the categories. The results of the Eurovision-inspired voting were:
1st place – The Margaritas
2nd place – SW
3rd place – Acapitches
Best Costume – The Margaritas (rising above the other quartets who wore all-black!)
Best Choreography – Acapitches
Most Entertaining – Acapitches
Acapitches win bronze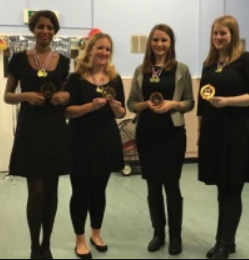 SW wins silver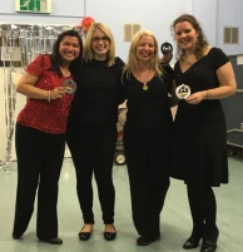 The Margaritas win gold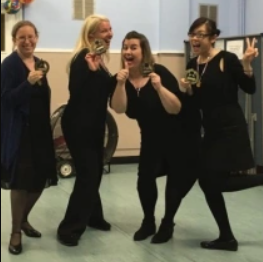 Our team coordinator, Hayley, summed up the evening perfectly:
"What a fab quartet night! Some incredible singing from amazing quartets. So much talent in our small-but-perfectly-formed chorus."
See the rest of the photos of the night on our Facebook page