We know it's still November but here at London City Singers we're gearing up for festive cheer. Bursting out with beautifully harmonised four-part carols takes some prep time after all. Last week, as part of that prep, eight of us were invited to go behind the scenes of Covent Garden Station and do a bit of recording of songs that will be played over the station's public address system. This is the second year that we're doing it in collaboration with the management and staff of Covent Garden Station. For 2015 however, the recordings will be heard not only at Covent Garden but also at other stations in the London Underground network.
Lead section leader, Cat, checks balance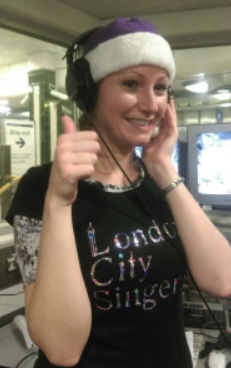 Liss, one of the members who joined us in the lead section last July, shares her experience, "I love seeing the backstage of places people aren't normally allowed to go, so I was pretty excited. We crowded into the control booth, which is basically a wall of glass and monitors, and a wall of paperwork. Two station staff made us very welcome, with flattering noises about being fans of our work, and various others popped their heads in over the course of the evening to listen. A free-standing microphone was set up in the middle and we sorted ourselves round it, doing a couple of test runs to work out the best balance. The staff was also recording us on video but it was weirdly easy to forget that we were on camera. To be honest, I found the curious stares of the public as they streamed past much more distracting. They must have wondered what on earth eight women in purple Santa hats were doing in the nerve centre of the station!"
We recorded six carols over the course of about two hours. Each one had a couple of rehearsals, with much emphasis on a clean end to the 's' of Christmas (surprisingly hard to get right with only eight people).
Selected London Underground stations will start playing the carols in December, when it legitimately becomes the holiday season, so keep your ears open! London City Singers will also do some live performances at several stations, dubbed Twinkle Tube, to raise money for Roko 20 and Macmillan Cancer Support. If you're passing through Covent Garden, Westminster or Knightsbridge stations on 12 December, or Oval on the 17 December, do come and say hello!